On the Shoulders of Giants
Helge Letonja
If I have seen further it is by standing on the shoulders of giants. (Isaac Newton)
Based on the cultural-historical metaphor of dwarfs standing on the shoulders of giants, who can look further than the giant himself, Helge Letonja questions our integration into our fellow world with his intense, associative visual and body language.
Our state of interconnectedness becomes tangible with the interplay of the ten expressive dance personalities. Sometimes blurred and concealed, sometimes direct and sudden, fluc-tuating between attraction and repulsion, separation and harmony, disintegration and reori-entation, the choreography unfolds in space.
The ensemble dances – exploring with its art of movement the fragility of human existence, which is always revealed anew in the relationship of the dwarf to the giant, between gigan-tic blindness and dwarfish lucidity.
In dialogue with the compositions of Simon Goff with songs by Lynn Wright, sometimes melancholic, sometimes stirring and swelling, a work about our condition and the ability to change perspectives is created.
Concept and Choreography: Helge Letonja |  Composition/Song: Simon Goff, Lynn Wright | Voice: Lynn Wright, Jessica Einaudi | Choreographic Assistant: Paul Pui Wo Lee | Dancer: Kossi Sebastien Aholou-Wokawui, Leila Bakhtali, Oh Changik, Zander Constant, Sara Enrich Bertran, Albert Galindo, Jure Gostinčar, Einav Kringel, Anila Mazhari, Aron Nowak | Costume Design: Min Li | Costume manufacture: Hüte & Kostüme, Hamburg | Stage Design: Helge Letonja | Light Design: Norman Plathe-Narr | Video Design: Médoune Seck | Video: Chriss Bieger, Sebastian Kemper | Mask/Make-Up: Carolin Ghodoussi, Dagmar Klabunde, Anette Wahl | Outside Eye: Anke Euler, Augusto Jaramillo Pineda | Production management: Florentine Emigholz | Photos: Marianne Menke, Jörg Landsberg | Stage Manager: Michael Steiner | Production: steptext dance project, Landerer&Company | Coproduction: Theater Bremen
Performance Dates
Performance Dates 2020

Theater Bremen
27 February (Premiere)
05 March
08 March
09 March
21 June (cancelled)
27 June (cancelled)
01. Juli (cancelled)
Schauspielhaus Hannover
16 June (cancelled)
18 June (cancelled)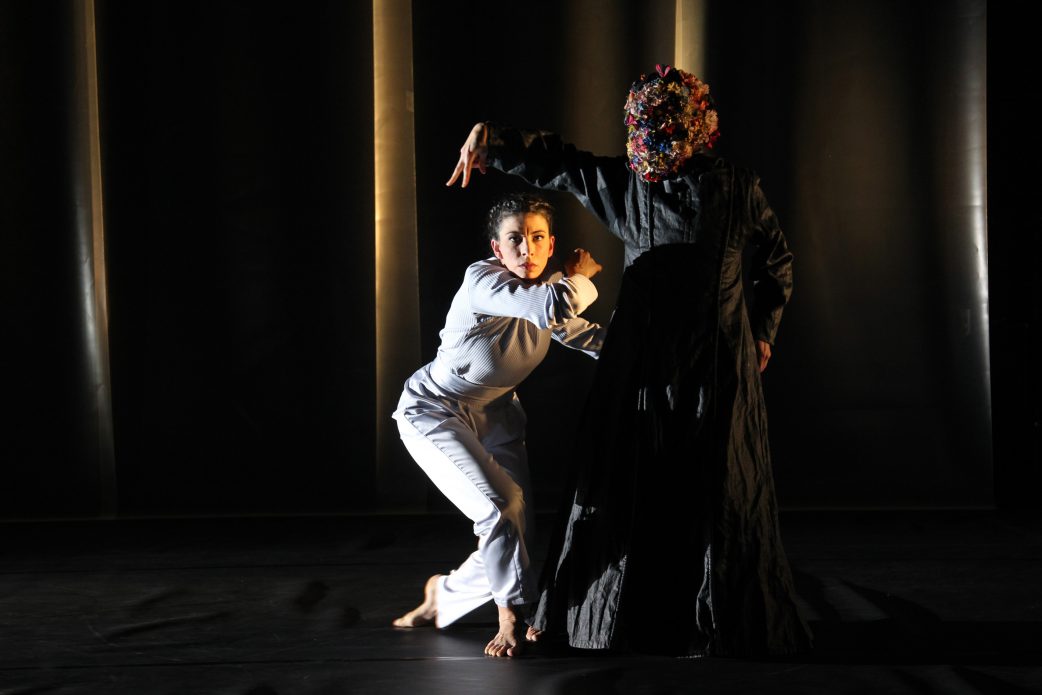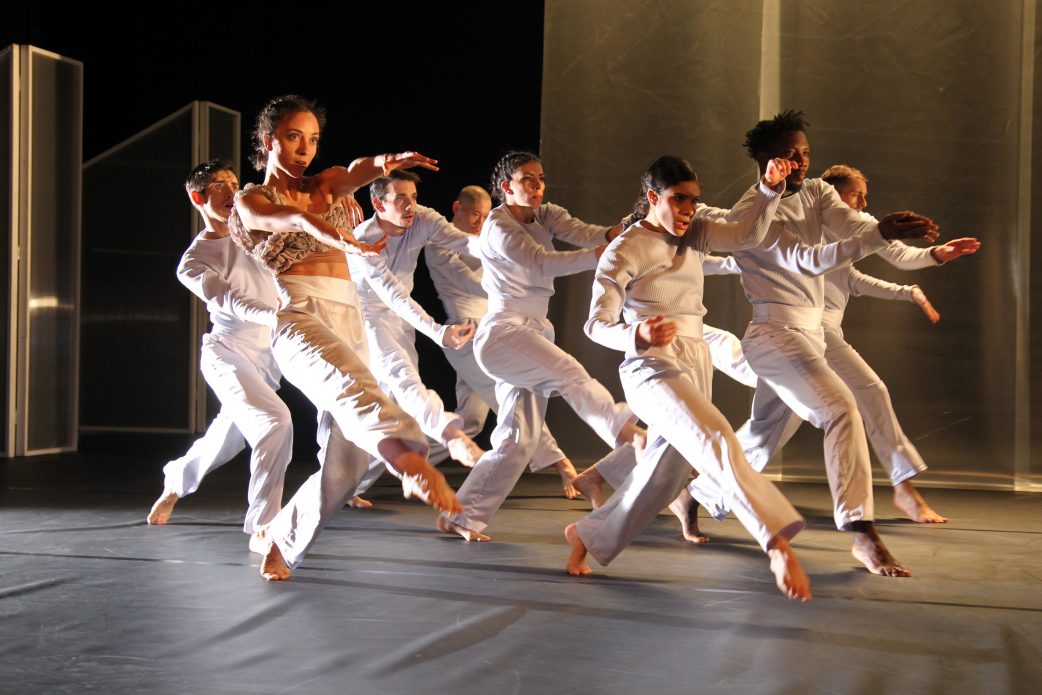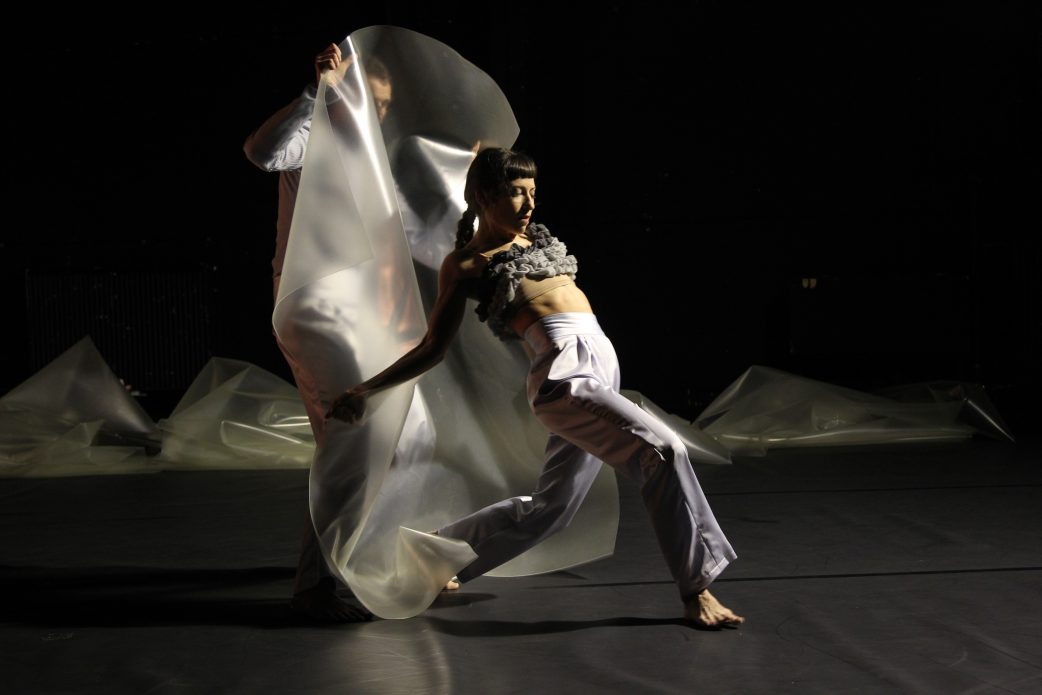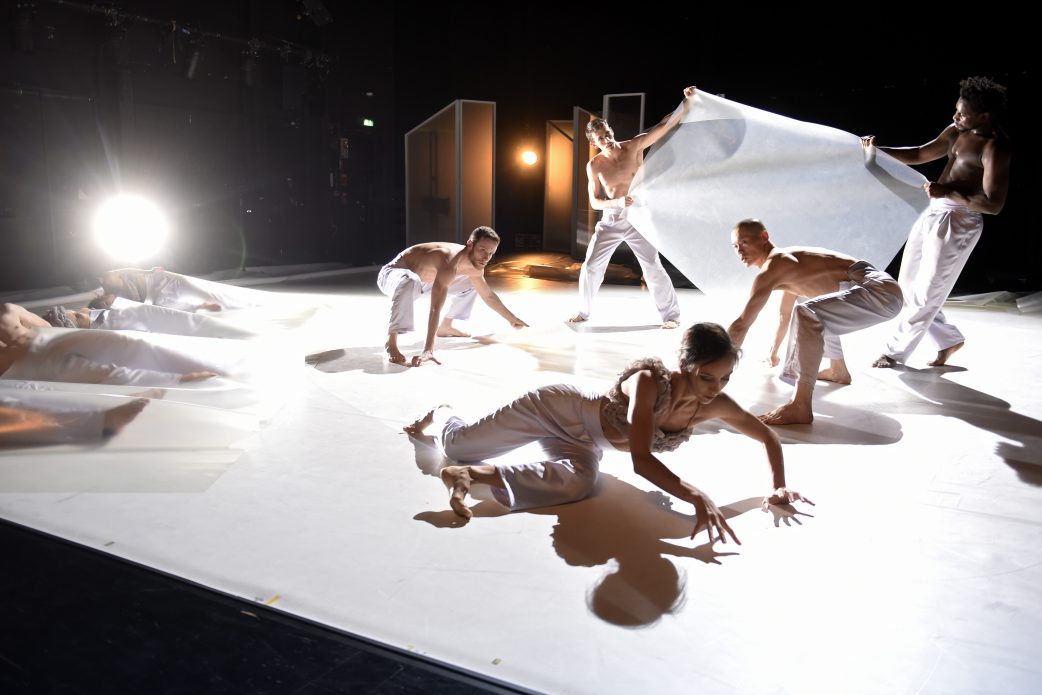 v.o.n.u.: Jörg Landsberg, Jörg Landsberg, Jörg Landsberg, Marianne Menke
Press Reviews
"The richness of expression is infinite, the virtuosity breathtaking, the precision inspiring. The scenes are guided and supported by the minimalistically haunting music of Simon Groff and Lynn Wright".
(Ute Schalz-Laurenze, Kreiszeitung , February 29, 2020)
"The beginning of this exciting new foundation was now made in Bremen. Based on the cultural-historical metaphor of Dwarves on the Shoulders of Giants, choreographer Helge Letonja seeks in 'On the shoulders of giants' the connections between past, present and future". (Martina Burandt, German Stage Online, February 28, 2020)