Moving Mountains
Kossi S. Aholou-Wokawui / Antonin Comestaz/ Helge Letonja
Foto: Ursula Kaufmann
The ability to move mountains is a deeply human one.
The leitmotif of movement is taken up by three independent choreographies in this dance evening: substantial mass as a creating force. Mass can be understood as the human being of a society or the inspiring size of a mountain landscape.
Since this Season, Of Curious Nature, based in Bremen and touring internationally, has been closely associated with the Teo Otto Theater in Remscheid. With Moving Mountains, this relationship is further deepened.
The Bergisches Land inspired Helge Letonja, whose current, though not original, home in Bremen is defined by purely horizontal topography. However, as a native of Austria, he is familiar with the elemental force of the mountains, which directly or symbolically form a center of power that is in a perpetual, unstoppable process of change, thereby fueling creativity. The pattern of lines, which art borrows from nature, is set in motion here – the horizontal becomes the vertical, which claims its right in dance.
Helge Letonja creates body images that merge into anthropomorphic transformations, into creative work. His protagonists create art with their bodies, the dance finds its resonance in the counterpart of the audience. Something powerful is set in motion.
Antonin Comestaz has created the second work of the evening. He is a choreographer with an imaginative and detailed dance vocabulary, which he combines again and again with elements of folk, pantomime, breakdance, ballet, contemporary dance and cartoons. Within a moment of a piece, there can be drastic shifts of styles and genres, like a landslide in the mountains, fascinating, suddenly breathtaking, dangerous.
The third choreography of the evening is by Kossi S. Aholou-Wokawui. His dance language took shape in his original homeland of Togo and is now juxtaposed with contemporary European dance, which he masters with virtuosity as a dancer. The result is a powerful encounter of different styles and traditions. Kossi S. Aholou-Wokawui's creative everyday life also includes the ability to move mountains. Thus he draws strength from the encounters of cultures and distills movement.
The three choreographers take the image of Moving Mountains as the starting point of their research for their joint evening. The dance movement is individually questioned three times for its creative power.
Concept, Choreography: Kossi Sébastien Aholou-Wokawui | Choreographic assistance, training management: Keith Chin | Dance: Casey Hess, Daria Hordiichuk, Myles Langston Hunter, Xavier Lott | Costume: Koami Vignon | Music: Collage | Light design: Carlos Heydt
Dauer: ca. 25 Min
Concept, Choreography: Antonin Comestaz | Choreographic assistance, training management: Keith Chin | Dance: Dori Yen Chu Ku, Noémie Larcheveque, Daiana Mankovska, Virginia Michailidou, Andrea Scarfi, Alice Zucconi | Music: Collage, Sonic Junkie | Costume: Antonin Comesat | Light design: Carlos Heydt
Dauer: ca. 30 Min
Concept, Choreography: Helge Letonja | Choreographic assistance, training management: Keith Chin | Dance: Kossi Sébastien Aholou-Wokawui, Casey Hess, Daria Hordiichuk, Myles Langston Hunter, Dori Yen Chu Ku, Noémie Larcheveque, Xavier Lott, Daiana Mankovska, Virginia Michailidou, Andrea Scarfi, Alice Zucconi | Dramaturgy: Anke Euler | Music: Collage, Matthew McFarlane | Music editing: Florian Tippe | Costume: Anna Thåqvist | Light design: Carlos Heydt
Dauer: ca. 40 Min
Anfertigung Kostüme: Dominice Steffen, Anna Thåqvist, Koami Vignon | Licht: Carlos Heydt, Nathaniel Johnson | Techn. Leitung: Nathaniel Johnson | Produktionsleitung: Anne Storm | Techn. Produktions-Assistenz: Médoune Seck | Foto: Ursula Kaufmann, Marianne Menke | Gestaltung: Andrea Dilzer | Video: Médoune Seck | Produktion: steptext dance project und Teo Otto Theater Remscheid
The production Moving Mountains is supported by the Senator for Culture Bremen and the Waldemar Koch Foundation.
Of Curious Nature/TanzRAUM Nord is supported by Bureau Ritter/TANZPAKT RECONNECT, funded by the Beauftragten der Bundesregierung für Kultur und Medien in the framework of Initiative NEUSTART KULTUR Hilfsprogramm Tanz; and from the Senator für Kultur Bremen.

Yen Chu Ku, Xavier Lott, Virginia Michailidou and Andrea Scarfi are supported by the Beauftragte der Bundesregierung für Kultur und Medien im Programm NEUSTART KULTUR, Absolvent:innen-Förderung DIS-TANZ-START des Dachverband Tanz Deutschland
Performance Dates
Fr 01 December 2023 | 8:00 pm (Ah Oui? Pas)
Korzo Theatre (Den Haag)
Th 11 May 2023 | 8:00 pm
Fr 12 May 2023 | 8:00 pm
Sa 13  May 2023 | 8:00 pm
Schwankhalle Bremen
Premiere: 25 February 2023 | 7:30 pm
Teo Otto Theater Remscheid
3 March 2023
TanzTage Iserlohn
16 March 2023 | 11:00 am (rehearsal for school classes)
16 March 2023 | 8:00 pm
18 March 2023 | 8:00 pm
19 March 2023 | 4:00 pm ( Family-friendly performance
Parents to the theatre, children in motion: On 19 March at 4pm, Augusto Jaramillo Pineda, director of the young artists as well as numerous dance projects for children and young people, offers a dance taster class during the time parents attend the performance of MOVING MOUNTAINS. For children aged 7 and over.)
Schwankhalle Bremen
Registration for dance taster course (19.03., 4 p.m.) at: office@steptext.de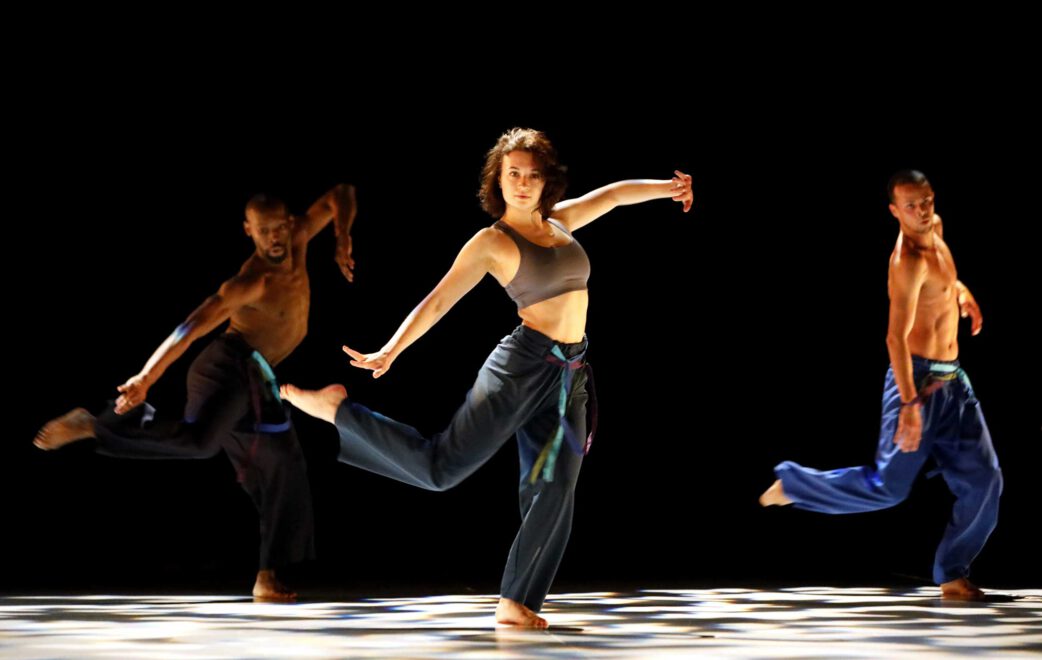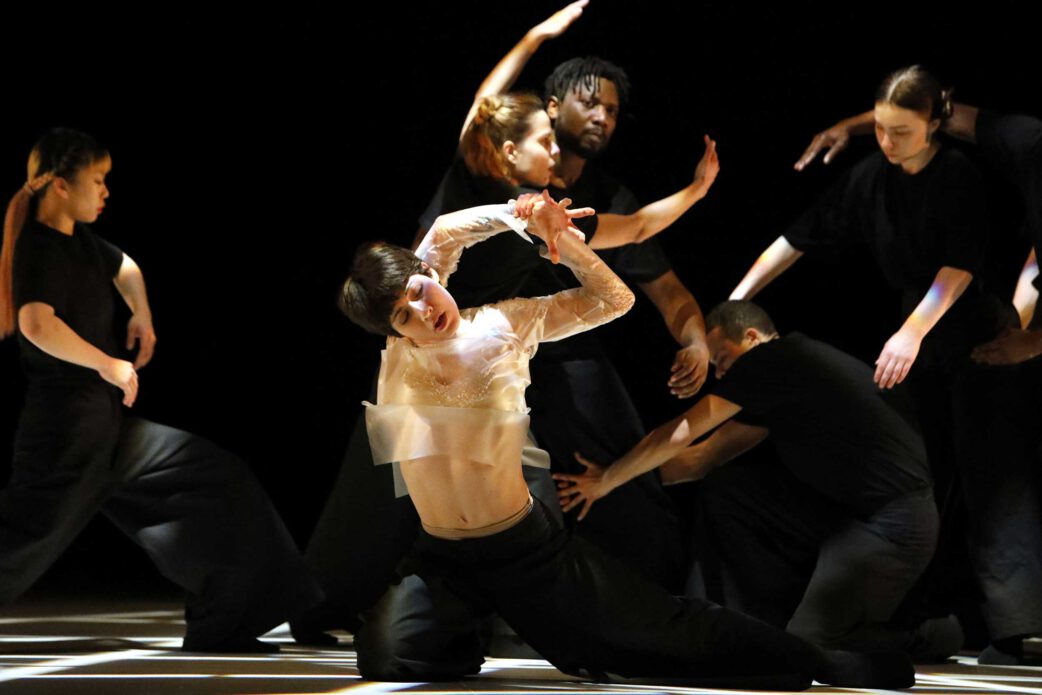 Foto: Ursula Kaufmann